Learn the best of Italian cuisine with Sabrina
Love Italian cuisine but don't know how to make high quality, classic Italian dishes, this is your chance to learn all there is to know about authentic Italian cooking with Sabrina Damiani's cookery course in Edinburgh.
Whether on your own or with a friend or partner, Sabrina will guide you through the basics of Italian cuisine from pasta and focaccia making to more complex regional dishes, authentic sauces and luxurious desserts over a fun yet informative weekly course. You will be cooking, relaxing, having fun with your friend and learning italian on the cookery course. It's the perfect way of learning italian and to cook great italian food while discovering the sicilian culture and cuisine, using fresh and organic ingredients. Designed to teach you the essential skills, the classes can cater for up to five people, just the right size for a more personal tutorial. Recipes are easy to follow with a  step-by-step format that blends demonstrations with hands-on cooking using only the finest fresh, organic ingredients and seasonal produce.  You'll sample a little of what you cook as you go and guests are given a copy of all recipe notes in both Italian and English ensuring that everyone can re-create the best Italian cuisine at home.
WEEK ENDS
minimum 2 people

minimum 3 hours

Saturday afternoon by request
WEEKLY
minimum 2 people

3 hours

10.00am to 1.00pm
PRIVATE
minimum 2 people

minimum 3 hours

time and day by request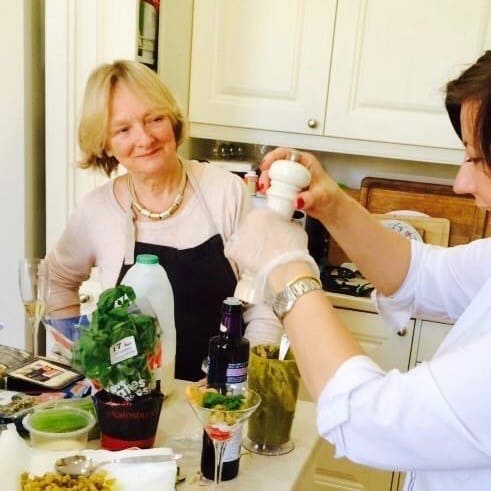 "I thoroughly enjoyed Sabrina's cookery classes. It was wonderful to learn such authentic Italian dishes in such a lovely and friendly atmosphere. Sabrina is a fantastic and engaging teacher and I would definitely book up again. It's a really fun thing to do with a few friends too.
Sabrina kindly did the catering for my son's christening, which meant I could really enjoy his special day. Sabrina's delicious catering and her attention to detail take all the pressure of having an event at home away, I would really recommend her."
Clare Marshall (Clare Marshall Interiors)

Please contact Sabrina if you are interested to join one of the course or organise one at home. She will come back to you with a quote, accommodating any of your special requests.