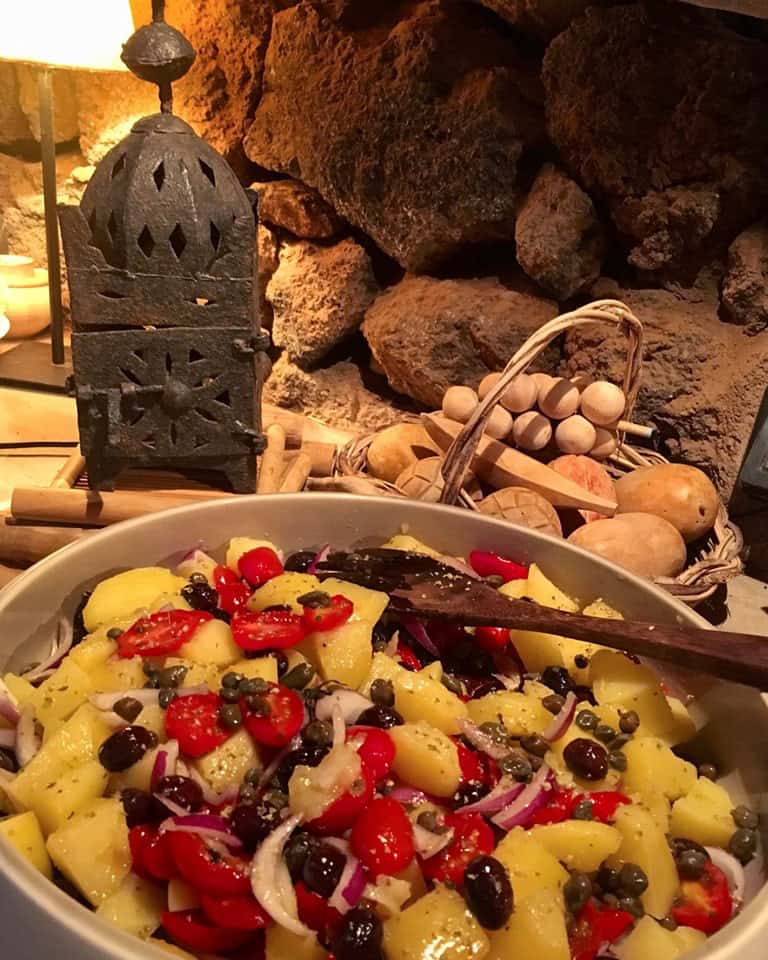 "Pantelleria is a tiny, beautiful island that lies at the edge of the Tyrrhenian Sea, just south of Sicily, barely 80 miles off the coast of Tunisia.
It is mountainous and lush with grape vines, olives, and most famously, capers,
the star of the island that grows in abundance everywhere. Pantesca salad is featured on most menus on the island"
Ingredients
1 kg potatoes

2 tablespoons

salt-packed capers

1/4 cup

halved and pitted Italian black olives

1 teaspoon

fresh oregano leaves, finely choppedj

1

red onion, thinly sliced and rinsed in cold water for 1 minute
good quality extra virgin olive oil
sea salt and pepper
Method
Put the potatoes in a medium saucepan, add enough water to cover and the salt; bring to a boil over medium-high heat. Reduce heat to a simmer and cook until potatoes are just fork tender, about 20 minutes. Drain and set aside to cool.
While potatoes are cooking, soak the capers in cold water to wash away their salt, about 5 minutes, drain, rinse and repeat 2 times
Peel the cooled potatoes and cut in quarters. Combine all ingredients, in a large mixing bowl. Toss and adjust seasoning. Serve immediately or may be made earlier in the day before serving and held at room temperature.