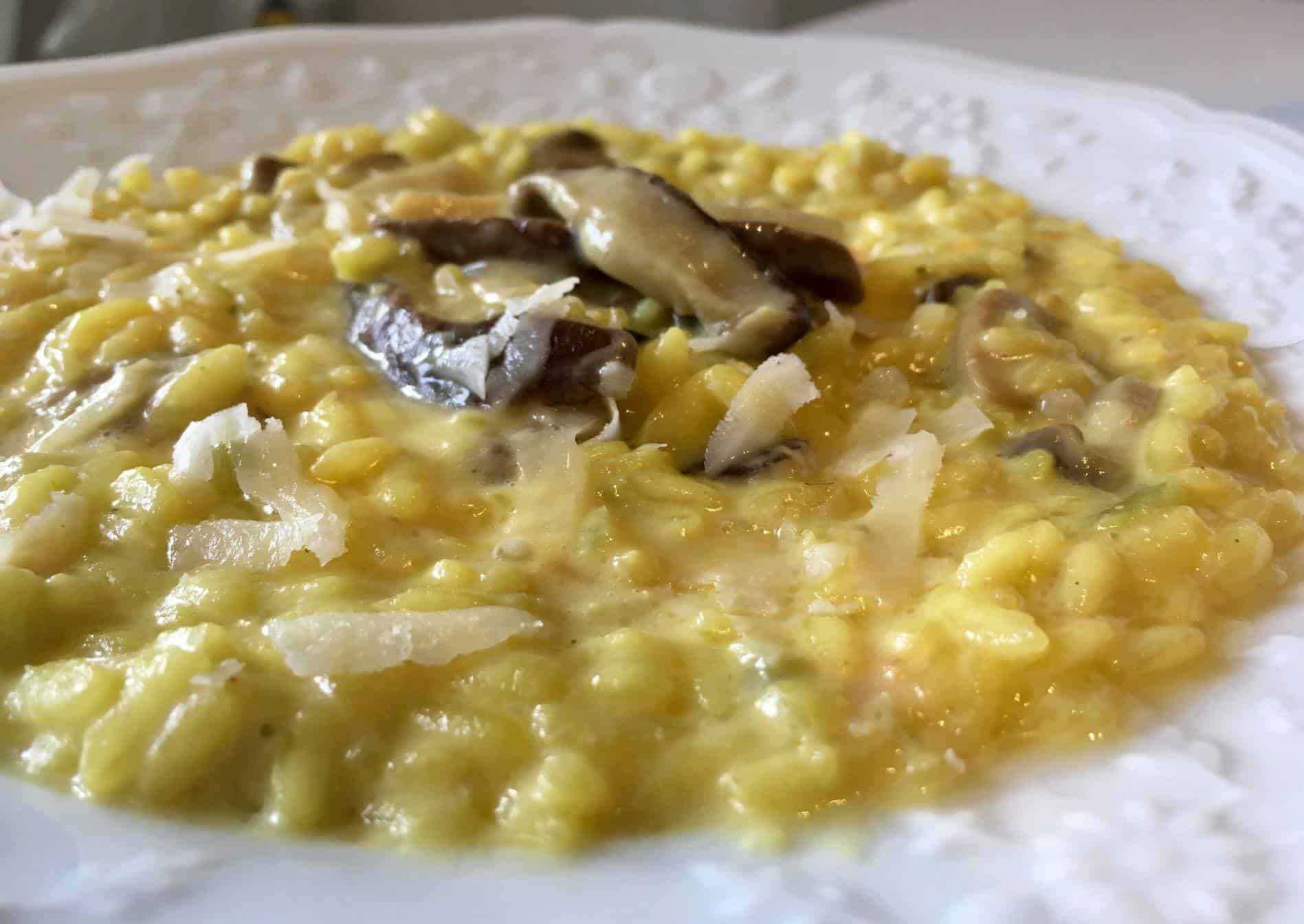 Ingredients
350g Carnaroli rice or Arborio

200 g fresh porcini mushrooms or 50 g dried

80 g butter

75ml Brandy or dry white wine

Saffron

1 vegetable broth (stock)

2 shallots or 1 white onion finely chopped

80g grated Parmesan cheese

Extra virgin olive oil

Salt and pepper to taste
Method
Bring the broth (stock) to a boil in a large saucepan and adjust the heat to keep it at a boil.
If using dried mushrooms, soak them for at least 20 minutes in 200 ml of warm water. Once they have reconstituted properly, chop about ½ of them into small pieces and roughly chop the rest. There's no need to soak fresh mushrooms.
Heat 50 g butter and the oil in a saucepan until it is warm, add the shallots and slowly cook over low heat, stirring occasionally, for
5 minutes until softened and translucent, about 2 minutes. Add the rice and stir for about a minute, until it is well coated and opaque. Then, add the porcini mushrooms and stir to combine. Stir in the wine and cook until it is nearly all evaporated.
Start adding the broth, one ladeful at a time, stirring constantly, until the rice has absorbed almost all the liquid before adding the next one. Repeat until the rice is cooked al dente. (You might not need all the broth, if you are using dried mushrooms, add their soaking liquid along the way, making sure that any grit stays behind.)
When the rice is half cooked dissolve the saffron in a glass of stock and pour it in the rice mixing well.
Take the risotto off the heat and check the seasoning carefully.
Stir in the remaining butter and the Parmesan, vigorously for about a minute, so that the rice becomes creamy and smooth. Transfer to a warm serving dish. Serve immediately.
ENJOY!