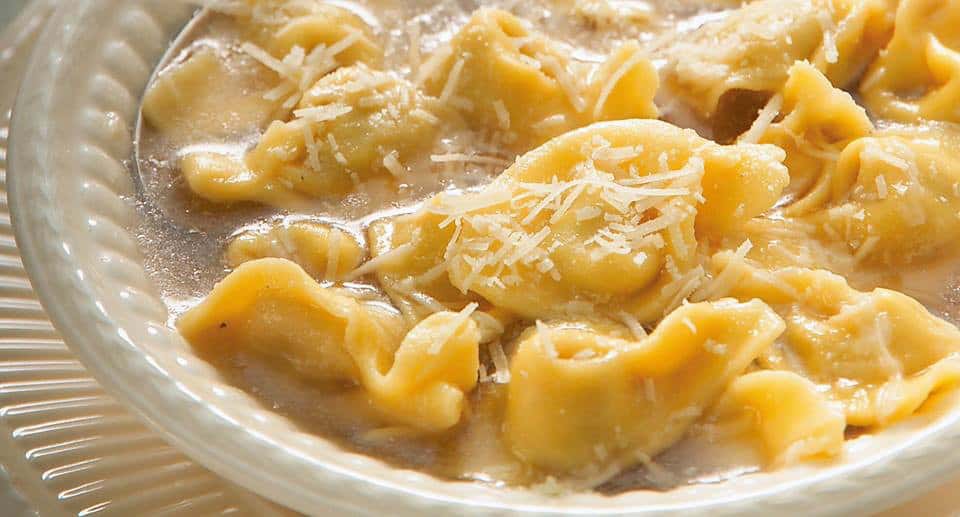 This is a classic Italian soup that is traditionally served at Christmas. It is a rich and intense festive broth and everyone just loves it. We usually serve this Capon (the castrated rooster, usually under one year old), broth soup with tortellini or cappelletti (little hats). It is an ideal handmade broth recipe for the cold winter The broth can also be frozen for several months.
Ingredients
1 Capon (or 1 large chicken)

4 litres cold water

2 carrots

2 celery stalks

1 large onion

1 tomato

Salt
Method
Put all the ingredients in a large stockpot and cover with cold water. Bring the ingredients to a boil, lower the heat and simmer covered for 3/4 hours or until the meat is tender. During the cooking, use a skimmer to skim off the foam that collects at the top and discard it. Turn off the heat, remove capon and vegetables.
Bring the salted broth to the boil and cook the tortellini in it for 3 to 5 minutes. Serve with grated Parmigiano Reggiano. ENJOY!
Wishing you all a lovely Christmas